OptiFlex-K1®
Knee CPM
Designed to provide anatomical motion for all types of CPM Knee Patients: Pediatric, Athletic, and Bariatric. Featuring patented unique technologies such as: Progressive Rom,Oscillation Zone™, Fast Back™ and Comfort Zone™.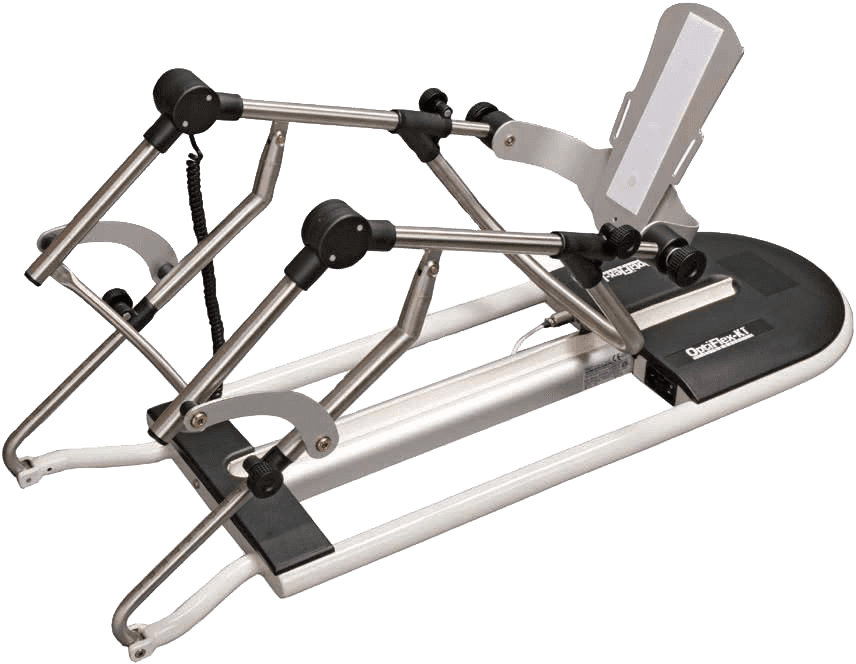 MOBILITY IN MOTION
---
OptiFlex – The Story Behind the OptiFlex Knee CPM
When the Chattanooga Group first began research on continuous passive motion devices for the knee, we found a market that was staid and stagnant. Other manufacturers thought their designs needed no improvement, though the word from clinicians indicated otherwise. As a result, our engineers went to work, listening to the advice from physicians, nurses and therapists to find features that were needed. This is how the OptiFlex Knee CPM was born. It's a true innovation! Features like Progressive ROM, Oscillation Zone, Fast Back and Comfort Zone didn't exist before OptiFlex. Imagine the difference these features can make in your patients, enhancing comfort, compliance and outcome. Our handheld pendant is ergonomically designed with easy-to-use buttons, back-lit display for maximum visibility, multiple language interface, context sensitive help and even a tough Santoprene bumper and seal.
OptiFlex-K1® – Simple, Durable, Reliable. 
Weighs just 23 lbs (10.4 kg), making it the lightest knee CPM on the market

 

Only 38 inches (97 cm) long

 

Wide low-profile, closed-base frame for stability

 

Faster motor speed

 

Single screw drive

 

Reversible footplate for shorter legs

 

ROM -10 to 120

 

On-board power supply

 

Patient lockout feature

 

Accommodates patients 4 ft to 6.6 ft (1.2 m – 2 m)

 
| | |
| --- | --- |
| Knee Flexion | 120° |
| Knee Extension | -10° |
| Speed | 25° – 180°/minute |
| Pauses | 0 – 59 seconds |
| Force Reversal | 45 Kp of force* (built in) |
| Patient Height | 4 – 6.5 ft (1.2 – 2 m) |
| Calf Length Range | 10″ – 22″ (25.4 – 55.9 cm) |
| Thigh Length Range | 12″ – 19″ (30.4 – 48.2 cm) |
| Mains Power | 100V-240V, AC 50-60Hz |
| Unit Weight | 23 lb (10.4 kg) |
| Shipping Weight | 54 lb (24.5 kg) |
| Dimensions | 38″ x 14″ x 9″ (97 cm x 36 cm x 23 cm) |
| Electrical Safety Class | Class 1, Type B |
| Safety Tests | IEC 60601, 1:1988 +A1:1991, +A2:1995, CAN/CSA C22.2 NO 601.1 M90, ANSI/UL 60601-1, IEC 60601-1-2, IEC 60601-1-4, ISO 14971, ISO 10993-1 |